Commercial Shade Solutions for Schools and Daycares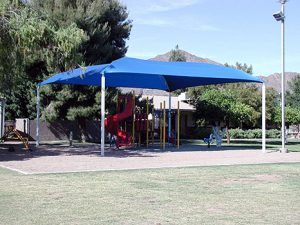 The desert climate in Arizona provides an abundance of sunshine throughout the year, and with that, there is also a high risk of sun damage and other heat related problems. With this in mind, outdoor shade becomes a necessity, especially at school campuses and daycare facilities, to protect children from the heat and sun damage that is so prevalent here in Phoenix.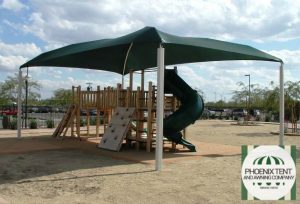 Phoenix Tent and Awning Company has been in operation for more than 110 years, and we have helped numerous schools throughout Arizona provide a safer environment for students. We offer several commercial shade solutions designed to shade and protect students from the harsh desert sun.
Our most popular commercial shade solution for schools and day care facilities is a shade canopy. Also known as a playground canopy, this four legged structure is covered by a breathable mesh shade material. The shade material is designed to block up to 95 percent of the sun's harmful UV rays, helping reduce the risk of sunburn and skin cancer.
The shade provided by the structure also creates a cooler environment under the canopy. If installed over play equipment, it helps keep the equipment cooler to the touch, while also helping to prevent the equipment's color from fading and material from decaying.
Think back to your playground days. Metal and plastic can get blistering hot, so by having a shade structure covering the equipment, it helps cut down just how hot the equipment gets and makes it more comfortable for active play.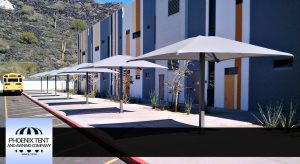 Schools today also want shade solutions for student drop-off and pick-up areas. Just recently, we installed umbrella-style shade canopies at a local high school. These are permanent structures with a single column supporting the shade canopy. This is a space saving option that still provides plenty of shade to cover students while they congregate and wait for school to start or to be picked up after dismissal.
No matter what your campus size or need, we can create custom shade structures to deliver a striking and noticeable impact for your educational facility. We work directly with school districts, school administration, parent teacher organizations, and daycare facility managers.
Phoenix Tent and Awning Company commercial shade canopies are fabricated to impress and deliver excellent shade coverage. We are BBB A+ Rated company and come highly recommended by local contractor organizations. Call 602.254.6061 to get a FREE on-site consultation today!